"I started training with Alex in May 2014 and it has been an amazing fitness journey. I never trained before or played any sports when I started and wasn't very comfortable with my body. Alex helped me change the way I felt about fitness, how I felt about myself and made it fun. What started initially as "I want to lose weight and be thin" turned into "I want to be able to do that".
He kept the sessions varied, and constantly came up with new and harder movements or exercises so it never felt boring. He used a combination of weights, functional movements, pads, HIIT, and body weight exercises in our sessions. We used every single piece of equipment in the gym, and he had his own anti gravity boots for inverted sit ups which I really enjoyed using.
He tracked my measurements and personal bests religiously so I always knew my progress.
Alex is also very knowledgeable when it comes to rehabilitation, and adjusted my training to deal with any injuries I had from snowboarding or back problems from my desk job!
I highly recommend him for all ages and levels!"
Nighat's goal was to complete her first half marathon
Having never trained or competed in fun runs or other competitions Nighat originally started training with the aim to increase her overall fitness and ensure that she did not develop any bad habits in her running style that could cause her an injury.
Having first assessed her running style, I introduced Nighat to running preparation and strength training, ensuring that her ankle and feet were aligned and ready for the impact over the half marathon.
Over the course of 3 months, training 3 times a week, Nighat's improvement was fantastic, losing 16kg and finishing the half marathon.
Andrew's goal was to complete the Marathon De Sables. As a CEO of a large company in central London he was often strapped for time.
"When I started training for the Marathon des Sables I developed a knee injury and was advised by my Physio to do as little running as possible for the race.

I met Alex and he put together a 3 month training program for me to get fit, lose weight and strengthen the muscles around my knees.

He was fantastic, really cared about me and my objective and I ended coming in the top 20% at the age of 42. Even though I ran 6 marathons in 6 days I have no knee problems 6 months on.

I highly recommend him!"
"I cannot speak highly enough of my training sessions with Alex. Coming back from a severe ankle injury (6 months on crutches) and being 4 months pregnant Alex had a double challenge working with me. The sessions both targeted rehab for my ankle as well as working on my fitness and building strength for my pregnancy and labour. The sessions were varied and kept me exercising right up to my due date as Alex adapted the weights and exercises as my pregnancy progressed. Now I can't wait to get back to the gym postpartum."
"I first started training with Alex four months ago. I had recently lost some weight through diet and circumstance but was struggling to maintain the weight loss with my normal diet... I should probably point out at this point I LOVE food. Especially big portions of it! I work at a desk and I was relatively inactive. Years ago I used to run quite a lot and I loved it. However my weight had always held me back and probably been a contributing factor to my frequent knee and ankle issues. Which in turn caused me to stop running. I hate going to the gym, I find them very intimidating and I struggle with motivation. I had noticed a new gym (Target Fitness) pop up at the back of the Lunns Garage on the A38. I popped in one day to see what it was about and met Alex. He was very friendly and welcoming, explained the type of classes and how things worked there. He offered me a free introductory PT session which I reluctantly agreed to. After nearly bailing I found myself there and I really enjoyed it. The first couple of sessions were great fun and Alex picked up on the things I enjoyed doing. Four months later I am now enjoy exercise again and it's now a part of my life. My original goal was to get my fitness to a point where I could run again. It's now just about being fit and healthy. I'm really enjoying swimming, spin classes, trail running and continuing to train with Alex. If like me you have the want to do something about your health but are struggling with the motivation I would highly recommend you drop in and see Alex and the team at Target Fitness. I don't have a before picture so I've found a holiday picture from earlier that year. Since then I've lost about 16kgs and ran the Weston prom race for the first time in a decade."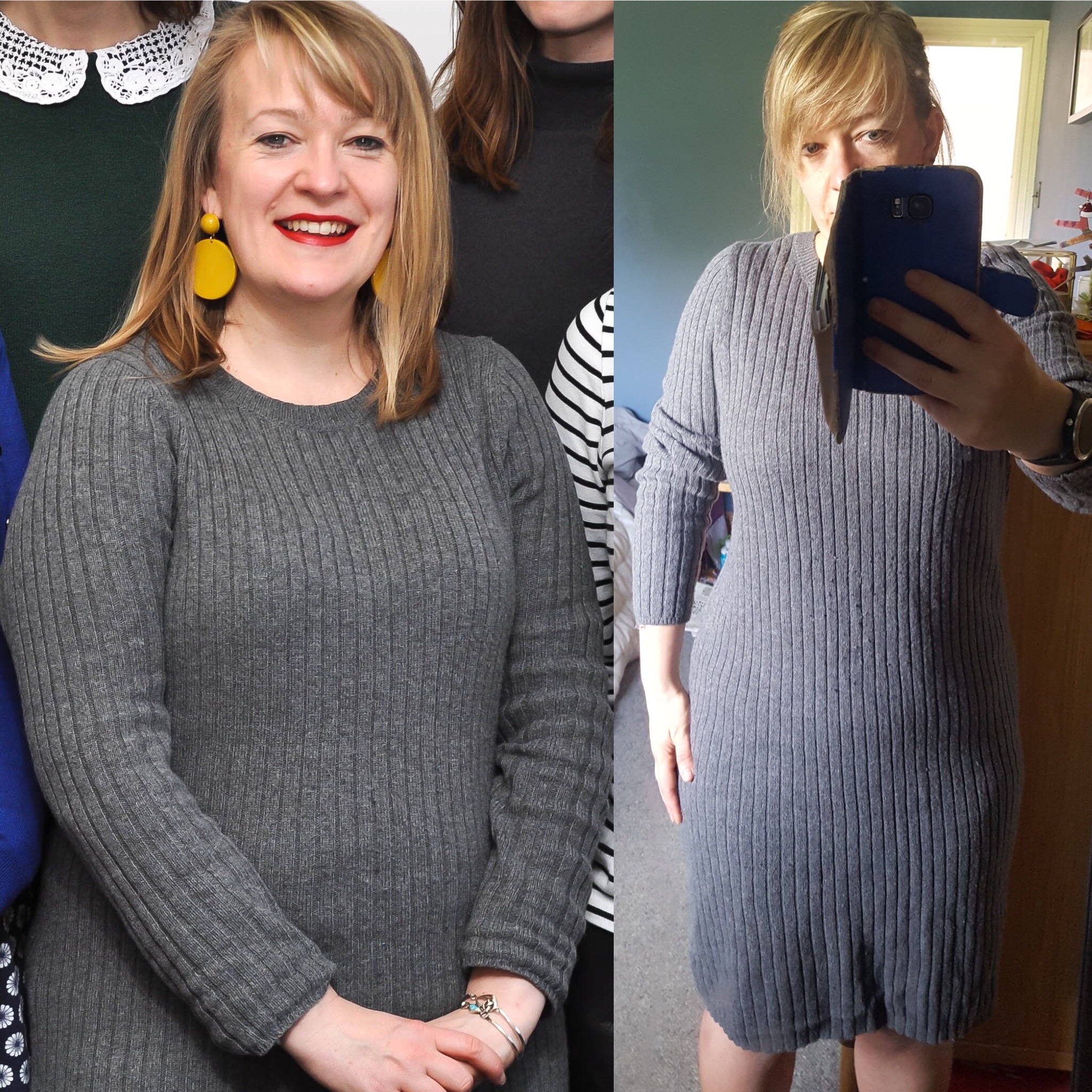 "I started training with Alex by chance having won a PT session in a raffle. I thought I'd go along, probably cry, die or run away and add strength training to the long list of exercise I've tried and failed at. How wrong I was!
Alex is constantly supportive and great at getting me to push myself that bit harder or further. The sessions are fun and always different, and Alex is great at pitching them so they're always just on the right side of achievable – it's always hard work but I've never once gone away feeling downhearted. We use a combination weights, body weight exercises and short, intense cardio work, and I'm now doing things I would be have been terrified of when we started.
I started out wanting to lose weight and get back into summer dresses that were getting a bit tight. I've achieved that and then some – over a stone (of fat!) lost in 3 months, and over 15 inches lost in measurements all over. All that while largely ignoring the no-doubt excellent nutritional advice that Alex gave me.
More importantly though, training with Alex has completely revolutionised the way I feel about my body and what I'm capable of. Going forward my goals will be about what I can do or gain rather than what I can lose.
I'd absolutely recommend Alex as PT to anyone, whatever their goals and level of ability. He really cares about helping you achieve your best, meticulously tracks your progress, and is unfailingly cheerful and encouraging."